Why does Windows 8 suggest to install earlier .NET versions when starting Greenshot?
In case you are using Windows 8, you might see a message when starting Greenshot, saying "An app on your PC needs the following WIndows feature: .NET Framework 3.5 (includes .NET 2.0 and 3.0)".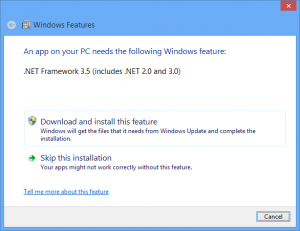 Just skip it. As far as we know, Greenshot is working fine with .NET 4.0.
Greenshot 1.x is built to run with .NET Framework version 2.0/3.5, and Windows simply does not know that it can be run on .NET 4.0 also, and thus asks whether to install version 3.5.
If, contrary to expectations, you encounter any errors with this setup, please let us know.